Sanctuary restoration photo and floor plan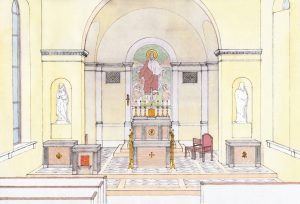 The project to restore our sanctuary space is now underway. Once we have nailed down a final timeline for when demolition and construction work will begin, and finish, we will publish all of the details on a brand-new page for our website.
But before that happens, we are excited to share with you the completed design, in color, and the floor plan of what the sanctuary space will look like once our work is completed.
Both the watercolor and the floorplan will also be physically posted in the Commons this weekend.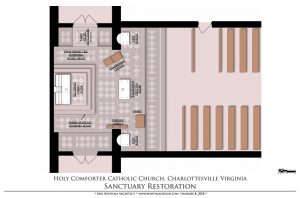 We would like to thank all of our parishioners for their feedback, prayers and support of this and so many other initiatives that are underway as part of our goal to renew this parish spiritually, socially and physically as we eye our 140th anniversary in 2020.
God bless you!
---
Sung Vespers every Wednesday at 6:30 PM
A sung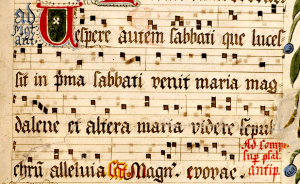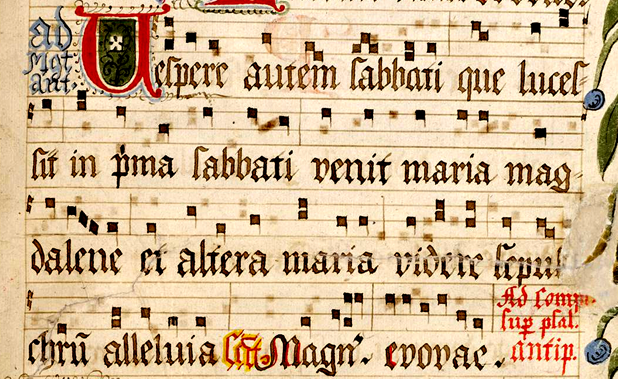 Vespers service will be celebrated regularly on Wednesdays at 6:30 PM in the church. The psalms are sung in Gregorian psalm tones (but in English!) which are easy to learn and are contemplative, allowing the participant to focus on the words while raising the voice to God in praise.
This is what St. Augustine meant when he famously said that singing is praying twice. Please come and join in the universal evening prayer of the Church!
For more information and/or to be added to the email list, please drop a line to our music minister, Daniel Kirkland, at music@holycomforterparish.org
---
Habemus Episcopum!
With great joy, the Diocese of Richmond announces that the Holy Father, Pope Francis, has appointed the Most Reverend Barry C. Knestout, Auxiliary Bishop of the Archdiocese of Washington, as the thirteenth bishop of Richmond.
The Mass of Installation will be celebrated at 2 PM Jan. 12, 2018, at the Cathedral of the Sacred Heart in Richmond. Please keep our bishop-designate in your prayers as he prepares to take possession of the Diocese.
May he be a loving and faithful shepherd and help this growing flock on its journey through this Earthly pilgrimage to the Heavenly Jerusalem!
---
Holy Comforter 2020 initiative begins!
The First Sunday of Advent marks the beginning of our efforts to get ready to celebrate 140 years as a parish and the 200th anniversary of the founding of the Richmond Diocese.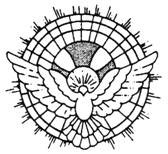 We found it most appropriate to begin this process in Advent, as we start our preparations for the coming of our Lord at Christmas. We must make our hearts and souls ready now so that, on that blessed day, we are of the best disposition possible to rejoice over Christ's birth.
Similarly, now is the acceptable time to ready our parish for a major spiritual, social and physical renewal so that, when we mark this major milestone in the life of our parish and our Diocese, we are focused on celebration and not rushing final preparations.
We invite you to visit our 2020 webpages dedicated to this important initiative to find out what we have planned… and most crucially… how YOU can help bring these and other projects we have not even thought of yet to fruition over the next two years!
---
Latin Mass schedule expanded
We also happy to announce that, beginning in November, Holy Comforter will celebrate three Masses in the Extraordinary Form each month. In addition to our existing schedule of Masses on the 2nd and 4th Sundays of each month, we will now also celebrate a Latin Mass on 1st Sundays as well.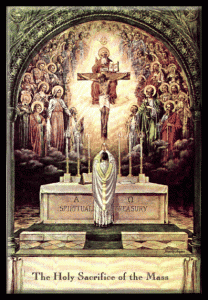 We are also are looking for more people to join our scholas. We have both a Men's Schola and a Ladies' Schola that practice separately, but perform together at our Latin Masses. Please contact our music director, Daniel Kirkland, at music@holycomforterparish.org if you are interested.
Information about Tridentine Rite Masses at Holy Comforter, including any schedule changes and a link to the propers for the Masses we celebrate, can be found on on our page dedicated to the Extraordinary Form of the Roman Rite.
---
Our Lady of Fatima procession draws crowd, press coverage
Holy Comforter celebrated 100th anniversary of the "day the sun danced" at Fatima on the morning of Saturday, Oct. 7 with a special event, including morning Mass and a procession through downtown Charlottesville.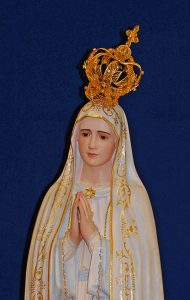 Many thanks to the Knights of Columbus for carrying the statue of Our Lady of Fatima that sits in the chapel. We also would like to extend thanks to staff and volunteers who helped to organize this incredible event.
In addition to being featured on the Richmond Diocese's various social media outlets, the procession was also captured by The Daily Progress and featured in the Sunday, Oct. 8, edition of the paper. To see the gallery of pictures taken by the photojournalist who covered our celebration of Our Lady of Fatima, please click here.
Additional images and information about the procession can be found at our Facebook page
More than 100 people attended Mass and marched with us and we want to thank each and every person who was committed enough to make this public demonstration of faith. Given the strong turnout and our unique location as Charlottesville's downtown parish, we are contemplating future processions. If you have any suggestions, please contact the office. God bless!
---
Welcome to Holy Comforter's new website!
After months of hard work, we are proud to be launching our new website. The new site makes it much easier to find when Masses are being held, how to contact the parish, prominently features our calendar and is mobile-friendly. We also have much, much more content. Certain new features will be updated very frequently, including daily Mass readings, saints of the week and a quick summary of events at Holy Comforter each week, which are all visible in the widgets above. You will also now be able to read Father Joseph Mary's Sunday homilies!
Please do take some time to check out all of our new content, including altar server information, brand-new content related to our Music, Christian Formation and Pro-Life ministries. This is still a work in progress and we have much more to bring you. If you have any suggestions, please contact the office. Thanks and God bless!