Requiem aeternam dona eis, Domine. Et lux perpetua luceat eis.
T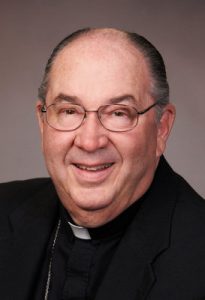 he Diocese of Richmond and the Holy Comforter community is in mourning following the death of our bishop, Francis X. DiLorenzo. Bishop DiLorenzo passed into eternal life late in the evening on Aug. 17.
Please pray for the repose of his soul and for spiritual and emotional strength for his friends and family. Below is the official schedule for the bishop's visitation and funeral in Richmond.
May the Lord grant him eternal rest and may perpetual light shine upon him. 
WAKE/FUNERAL SCHEDULE
LOCATION: CATHEDRAL OF THE SACRED HEART
THURSDAY, AUGUST 24
3:00 pm Reception of the body, followed by visitation
7:00 pm Vespers
The Cathedral will be open and the Bishop will lie in state for vigil throughout the night on Thursday. The doors will remain open until 9:00 am on Friday and reopen at 10:00 am.
FRIDAY, AUGUST 25
11:00 am Funeral Mass, followed by entombment in the Cathedral Crypt
Reception to be held in the Altria Theater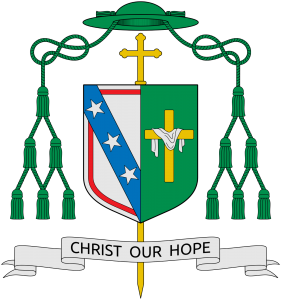 ---
Important schedule information while Fr. Joseph Mary is in Uganda
Father Joseph Mary will be in Uganda for most of the month of August. This will lead to changes for our daily Mass schedule and the Latin Masses, but will not impact our Sunday Mass schedule.
Daily Masses will be from Monday through Friday only. All of them will take place at 12 pm. There will be no daily Mass on Saturdays.
Tridentine Rite Masses are suspended for the month. They will resume in September.
There will be two Masses on Aug. 15 for the Assumption of the Blessed Virgin Mary. They will be at 12 pm and 7 pm. Please note that the Assumption is a holy day of obligation.
Confessions will be offered from 3:30 – 4:30 pm every Saturday while Father Joseph Mary is away. There will be no scheduled confessions on Sunday mornings, however.
Bishop Francis DiLorenzo will celebrate Mass at 10 am in Crozet on Sunday, Aug. 13.
The Dental Clinic in Uganda takes place from Aug. 3 to Aug. 7. Please remember to pray for the safe travel and health of Father Joseph Mary, the doctors, hygenists, and other laity giving of their time, talent and treasure to minister to the people in Kamuzinda Village. And please also pray for the people who will receive dental care (some for the first time), that they will have peace and good health.
---
Welcome to Holy Comforter's new website!
After months of hard work, we are proud to be launching our new website. The new site makes it much easier to find when Masses are being held, how to contact the parish, prominently features our calendar and is mobile-friendly. We also have much, much more content. Certain new features will be updated very frequently, including daily Mass readings, saints of the week and a quick summary of events at Holy Comforter each week, which are all visible in the widgets above. You will also now be able to read Father Joseph Mary's Sunday homilies!
Please do take some time to check out all of our new content, including altar server information, brand-new content related to our Music, Christian Formation and Pro-Life ministries. This is still a work in progress and we have much more to bring you. If you have any suggestions, please contact the office. Thanks and God bless!