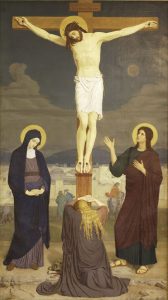 Holy Comforter's Holy Week 2018 schedule
We are only a little more than halfway through Lent, but it is already time to prepare for Holy Week.
The schedule of Masses and devotions is as follows:
Palm Sunday of the Lord's Passion: Masses Saturday at 5 PM, Sunday at 8:30 AM, 11 AM and 1:30 PM (Latin)
Holy Thursday: Mass at 7 PM, followed by adoration at the altar of repose in the Chapel until midnight.
Good Friday: Stations of the Cross at 3PM, Celebration of the Lord's Passion at 5:30 PM
Holy Saturday: Confession from 10 AM to 12 PM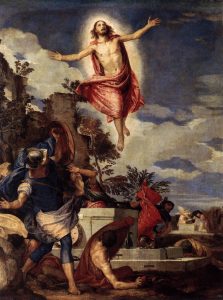 Easter Vigil Mass at 8 PM
Please note the unique Mass schedule for Easter Sunday!
Easter Sunday: Masses at 7 AM, 9 AM, 11 AM and 1:30 PM (Latin High Mass)
---
Vespers every Wednesday, Stations of the Cross every Friday during Lent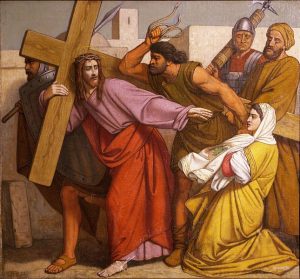 As we journey through the desert of Lent, we recall the journey that our Lord was forced to walk from the Stone Pavement in Jerusalem where he was condemned by Pontus Pilate, to Golgotha where he was crucified for our sins and finally to the tomb where he laid for three days before rising and destroying death for all time.
Holy Comforter will walk the Stations of the Cross every Friday during Lent. The first recitation of this devotion will be on Feb. 23 at 6 PM. It will be followed by a family-friendly soup supper. Stations will be held at 6:30 PM during the remaining weeks of Lent. On Good Friday, we will have Stations of the Cross at 3 PM.
Also, please remember that Sung Vespers are prayed on Wednesdays at 6:30 PM in the church. The psalms are sung in psalm tones (but in English!) which are easy to learn and are contemplative, allowing the participant to focus on the words while raising the voice to God in praise.
Consider adding one or both of these devotions to your Lenten practices to grow in faith and hope in Christ. We hope to see you on Wednesday and Friday evenings!
---
Demolition begins in sanctuary
The first day of demolition to begin the process of restoring our sanctuary has been a very fruitful one. Our thanks to architect Erik Bootsma, stone mason Rugo Stone and Audrey Storm of Artisan Construction (and Holy Comforter parishioner!) for their contributions to the design of the new sanctuary. Please periodically check this website and our Facebook page for updates on our progress throughout Lent (for Phase I) and after Easter (for Phase II).
Both the altar and the ambo have been disassembled and will be reconfigured by Rugo when they are ready to be installed into their new positions. The concrete block that the panels for the altar and ambo were built around are being destroyed. The new frames will be constructed with lighter, but strong, materials to reduce the weight being placed on the foundation. They will then be reassembled and look exactly the same as before!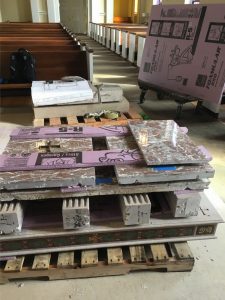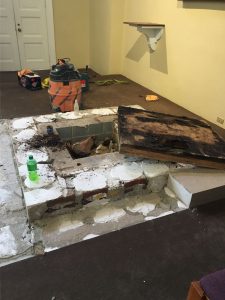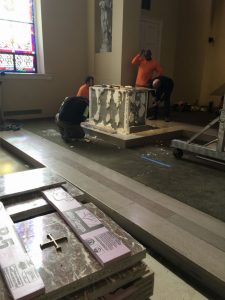 The stone steps where the presider's chair once stood have also been removed, leaving a core of cinder block, concrete and a rotting wooden platform that was an unseen safety hazard. The stone will be re-used in the design, while the concrete block and wood are being discarded. The new altar of repose for the Blessed Sacrament will be installed in that area after Easter.
Keep in mind that daily Masses will take place in the Chapel from now until at least Holy Week. Saturday Vigil and Sunday Masses will continue to be held in the Church at their usual times.
---
Lent begins Feb. 14 / Ash Wednesday Mass schedule
The journey through the desert to our Easter celebration begins on February 14, Ash Wednesday. Masses will be at NOON and 7 PM.
Remember, man, you are dust and to dust you shall return
Ash Wednesday and Good Friday are days of fasting and abstinence. All Catholics of the Latin (Roman) Rite from ages 18 to 59 are required to observe the fast.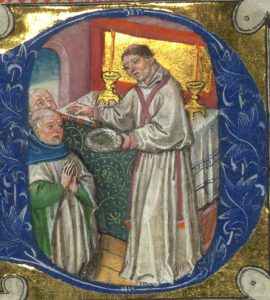 When observing the Lenten fast, Catholics are permitted to eat one full meal and two other, smaller meals that do not add up to another full meal. Liquids are allowed at any time, but no solid food is to be taken between meals when fasting.
All Catholics from age 14 are required to abstain from eating meat on Ash Wednesday and every Friday during Lent.
Individuals who are disabled or ill, as well as pregnant or nursing women are exempted from the fasting requirements. For more information on Lenten practices, please consult the USCCB Q&A page here.
May this season be a fruitful one for you and our entire parish. May we build one another up in holiness during this time of Lent and may the Holy Spirit move deeply within us so that we are prepared to rejoice at Christ's rising at Easter!
---
Daily Masses moving to Chapel effective Feb. 16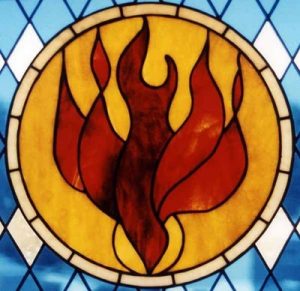 Our sanctuary restoration project will begin in earnest following the morning Mass on Thursday, Feb. 15. This will necessitate moving all daily Masses into the Chapel at least until the new floor is installed in the sanctuary and the altar and ambo are relocated. It may be necessary to continue to offer daily Mass in the Chapel during the second phase of the restoration when the new altar of repose for the Blessed Sacrament is being constructed.
While daily Masses are being moved, Saturday Vigil and Sunday Masses are not affected. We will continue to offer Mass in the sanctuary, albeit with a different look and utilizing the wooden altar and lectern that normally are in or near the Chapel. Our thanks to the parishioner who crafted that altar and lectern years ago; without him it would be very difficult to offer Mass in the church during this time of transition.
Let us use this season of Lent to prepare our hearts, and prepare our church, for the glorious triumph of Christ on Easter and an outpouring of the Holy Spirit at Pentecost. Our goal is to have the first phase of our restoration project completed by Holy Week and have it completely finished before Pentecost, so that our parish's feast day may truly be that: a day to rejoice, feast and give thanks to God for all He has done and continues to do for our parish.
This is an exciting time of renewal for Holy Comforter. We appreciate your patience, prayers and support of the parish through your financial contribution and tireless volunteerism. God bless you.
---
Support the restoration of our sanctuary!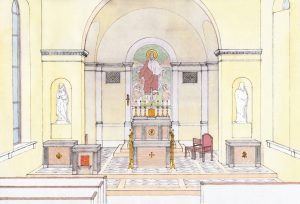 Our effort to restore our sanctuary space is officially underway after a visit by Rugo Stone and Artisan Construction, Inc.
Demolition and construction is set to begin during Lent, which is a time for prayer, fasting and almsgiving. In that spirit, please prayerfully consider how you can contribute to this project, which is the first major effort in our Holy Comforter 2020 plan to reinvigorate our parish and lay the foundation for the next generation of Catholics in Charlottesville.
So firstly and foremost, we ask for your prayers for our success. And, of course, we do need your financial support as well.

Click the above logo to go to Holy Comforter's Online Giving form. Log into your account, create a new one if you wish to switch your regular parish support from checks/cash to online giving, or select "Quick Give" to provide a one-time gift and show of support. Then simply select the "Sanctuary Renovation Project" under the "Fund" drop-down and enter the amount of your gift.
Thank you for your support of this noble and worthwhile project! God bless you!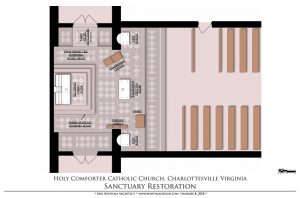 ---
Sung Vespers every Wednesday at 6:30 PM
A sung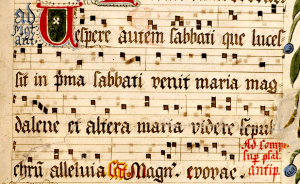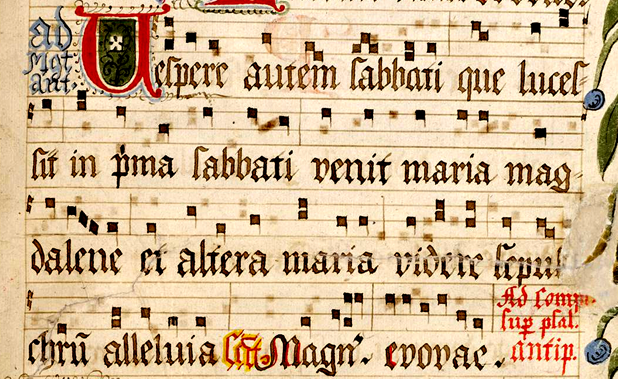 Vespers service will be celebrated regularly on Wednesdays at 6:30 PM in the church. The psalms are sung in Gregorian psalm tones (but in English!) which are easy to learn and are contemplative, allowing the participant to focus on the words while raising the voice to God in praise.
This is what St. Augustine meant when he famously said that singing is praying twice. Please come and join in the universal evening prayer of the Church!
For more information and/or to be added to the email list, please drop a line to our music minister, Daniel Kirkland, at music@holycomforterparish.org
---
Our Lady of Fatima procession draws crowd, press coverage
Holy Comforter celebrated 100th anniversary of the "day the sun danced" at Fatima on the morning of Saturday, Oct. 7, 2017, with a special event, including morning Mass and a procession through downtown Charlottesville.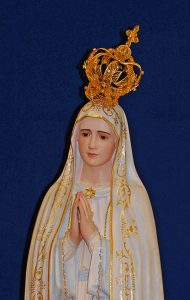 Many thanks to the Knights of Columbus for carrying the statue of Our Lady of Fatima that sits in the chapel. We also would like to extend thanks to staff and volunteers who helped to organize this incredible event.
In addition to being featured on the Richmond Diocese's various social media outlets, the procession was also captured by The Daily Progress and featured in the Sunday, Oct. 8, edition of the paper. To see the gallery of pictures taken by the photojournalist who covered our celebration of Our Lady of Fatima, please click here.
Additional images and information about the procession can be found at our Facebook page
More than 100 people attended Mass and marched with us and we want to thank each and every person who was committed enough to make this public demonstration of faith. Given the strong turnout and our unique location as Charlottesville's downtown parish, we are contemplating future processions. If you have any suggestions, please contact the office. God bless!