Fall Festival Picnic – Oct. 21 at 3:00 pm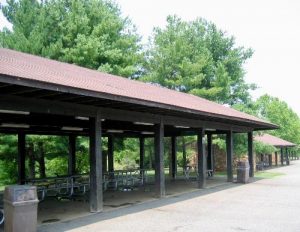 Please join in the fun at our Holy Comforter Family Fall Picnic on Sunday, October 21 from 3:00-6:00 at Pen Park! Head on over to Shelter #3.
Enjoy food, games, fun and an opportunity to meet other families in our parish community! We had such a good time this spring; we hope you will join us again. This is a potluck, but to be sure that the menu is varied, please indicate whether you can bring a main dish, side dish, or dessert. Drinks, paper products, etc. will be provided. If you are not sure of your plans and decide to come at the last minute, that is okay too!
https://www.signupgenius.com/go/4090e4faeac2ca5fc1-holy
Sunday is a day to worship the Lord and, yes, recreate with family, friends and your brothers and sisters in Christ. Take advantage of this wonderful opportunity to connect with old friends and make new ones.
RSVP and/or volunteer to help by signing the clipboard on the Christian Formation table in the Commons or via Sign-up Genius
---

Our Lady of the Rosary Procession – Oct. 14
As October is the month of the Rosary, Holy Comforter Catholic Church will have a procession in downtown Charlottesville in honor of the Blessed Virgin Mary on Sunday, Oct. 14, immediately following the 11AM Mass.
Join us as we carry a statue of Our Lady of Fatima through the streets, praying the Rosary and singing hymns to the Blessed Mother.
You need not be a parishioner to attend. All are welcome to join us in this public witness of our Catholic faith.
Following the procession we will have a High Mass in the Extraordinary Form at 1:30 PM. Please join us!
---
Bishop Knestout's Pastoral Letter 
Our bishop, Barry Knestout, has written a very important letter about his and the entire diocese's response to the ongoing sexual abuse and misconduct scandal.
Please read the whole thing HERE, but here are the important points:
– The Mass of Atonement on the Feast of the Exaltation of the Holy Cross was the FIRST such Mass that will be offered in reparation of the sins of the Church and for the healing of victims. More such Masses will be held regionally. Holy Comforter Catholic Church offered a Mass on 7:30 PM on Sept. 14 to this effect.
– The bishop is encouraging all clergy and laity to fast on Fridays for the remainder of the year. Father Joseph Mary has likewise asked us to do this as a parish. One could, and may be encouraged, to treat it like it was Good Friday or Ash Wednesday: One full meal and two smaller meals that, together, do not add up to another full meal.
– Names of priests who have been credibly accused of abuse will be made public.
– There will be a NEW audit conducted by an independent entity to ensure that no one who has been credibly accused remains in active ministry.
Please take the time to read it all, as we seek to deal with this very grave matter. Justice for victims and purification of the Church of evil is of the utmost importance at this time.
---
Reparation Masses for victims of abuse, atonement of sins of the Church
In light of recent scandals wounding our Church, Bishop Barry Knestout is inviting all the Faithful to a Mass of Atonement for the victims of abuse on the Feast of the Exaltation of the Holy Cross.
The bishop himself will offer Mass on Sept. 14 at 7 PM at the Cathedral in Richmond. All are encouraged to attend.
For those who are not able to get to the cathedral, Holy Comforter Catholic Church will offer its own Mass of Atonement at 7:30 PM on the same date, in spiritual communion with the Mass in Richmond.
Eucharistic adoration will follow the Mass for 30 minutes.
Please join us for Mass and adoration as an offering of reparation for the sins that have plague our Church and as a way to ask God to console all victims in their suffering.
---

Statement from Bishop Barry Knestout addressing the "moral catastrophe" in the Church
 "First, I offer my deepest regret and sorrow to all who have been hurt and affected by abuse at the hands of clergy and who may be reliving the trauma of abuse as a result of the details that have come out last week. I am greatly aware that apologies are not enough.
I join my voice along with many others who are calling for authentic and comprehensive reform in light of the crisis our Church is facing.  Only through action can we make the changes necessary to help our Church.  I fully support the Bishops' call for a full investigation of questions surrounding Archbishop McCarrick.  In addition, I fully support the implementation of steps needed to improve reporting of misconduct and abuse by bishops, and I am also in favor of effective reforms and enhanced procedures to resolve complaints against bishops in a timely, fair and transparent manner.  I remain committed to always ensuring the protection of children within the ministry of the Church of Richmond.
While change is urgently needed, the reforms proposed will occur as a result of a process, and its development will require time.  Be assured I will be involved with other bishops and lay advisers in the refinement of that plan as it is presented and through discussions at our conference meeting in November.
Here at home, I want you to know that I have read all the messages that have come to my office, and I am aware of your revulsion about what has occurred.  I know your patience has worn thin.  Yet, I ask for your patience and that you give me the opportunity to review and assess the Diocese of Richmond's policies and records, as well as the reporting and response to claims that are brought forward.  Once I have completed the review and assessment, I will act upon what I learn in a straightforward and transparent way.
I respectfully ask you to please keep our Church in your daily prayers – especially victims of abuse.  I also ask you to pray for our priests who serve so nobly and well.  I commend us all to the protection of Our Lady of the Immaculate Conception."
---
Bishop Barry Knestout consecrates restored sanctuary!
The Most Reverend Barry C. Knestout, DD, Bishop of Richmond, consecrated our restored sanctuary at the 11 am Mass on July 1. Our renovated lower level was officially dedicated as well during a reception immediately following the Mass.
Our sincerest and deepest thanks to His Excellency for blessing us with his presence and taking the time to solemnize this memorable moment in our parish's long history.
For more images of the bishop's visit, please visit our Facebook gallery. And if you have not yet done so, be sure to "Like" our page to stay connected with your parish!
---
Corpus Christi procession through downtown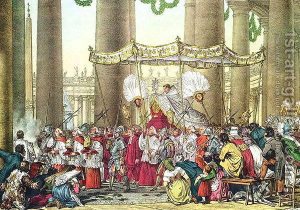 Holy Comforter marked the great Solemnity of the Body and Blood of our Lord Jesus Christ, also known as Corpus Christi, by processing through our parish neighborhood following the 11 am Mass on June 3.
Through this procession publicly professed our faith in the Real Presence and celebrate our unity in Christ. The Eucharist is the ultimate source and sign of unity. Thank you to all who braved the rain to join us in this solemn, joyful and moving display of faith as we take took to the streets of downtown Charlottesville.
Also, our thanks to CBS 19 News for covering the procession and interviewing our Master of Ceremonies for the Latin Mass, Daniel Smith. The procession was featured on the 10 pm newscast on Sunday. What a wonderful way to evangelize to the community!
Click HERE for a photo gallery of the procession and benediction.