Bishop Barry Knestout consecrates restored sanctuary!
The Most Reverend Barry C. Knestout, DD, Bishop of Richmond, consecrated our restored sanctuary at the 11 am Mass on July 1. Our renovated lower level was officially dedicated as well during a reception immediately following the Mass.
Our sincerest and deepest thanks to His Excellency for blessing us with his presence and taking the time to solemnize this memorable moment in our parish's long history.
For more images of the bishop's visit, please visit our Facebook gallery. And if you have not yet done so, be sure to "Like" our page to stay connected with your parish!
---
Corpus Christi procession through downtown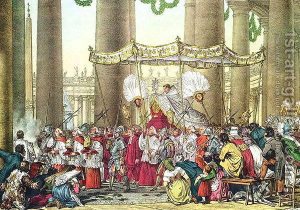 Holy Comforter marked the great Solemnity of the Body and Blood of our Lord Jesus Christ, also known as Corpus Christi, by processing through our parish neighborhood following the 11 am Mass on June 3.
Through this procession publicly professed our faith in the Real Presence and celebrate our unity in Christ. The Eucharist is the ultimate source and sign of unity. Thank you to all who braved the rain to join us in this solemn, joyful and moving display of faith as we take took to the streets of downtown Charlottesville.
Also, our thanks to CBS 19 News for covering the procession and interviewing our Master of Ceremonies for the Latin Mass, Daniel Smith. The procession was featured on the 10 pm newscast on Sunday. What a wonderful way to evangelize to the community!
Click HERE for a photo gallery of the procession and benediction.
---
Eucharistic Holy Hour on Thursdays at 7 PM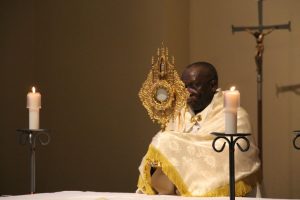 Due to increased interest in devotion to the Blessed Sacrament, Holy Comforter is offering a Eucharistic Holy Hour on Thursdays at 7 pm. This will be preceded by an opportunity for confession beginning at 6:30 pm. Our hope is to make this a recurring devotion much like our sung Vespers, which are prayed on Wednesdays at 6:30 pm.
Please join us for Benediction and Exposition of the Blessed Sacrament every Thursday. Just one hour out of your week in the presence of Christ in the Eucharist could change your life.
---
Sanctuary restoration work, fundraising hit important milestones!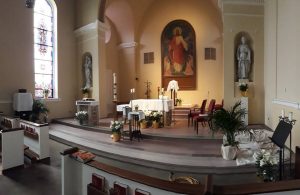 The effort to restore our sanctuary space continues! Our thanks to Rugo Stone, Artisan Construction, Inc. and M3 Inc. for their work.
As of July 8, we have raised more than $80,000 for this project. Thank you to everyone who has donated thus far, and to those who will contribute your prayers and financial assistance in the future!
Our webpage dedicated to this project has recently been updated. Please take a look for important fundraising, timeline and project progress information.
Thanks be to God! Deo Gratias! The altar has now been centered in the sanctuary, the ambo has been moved to its new position and the floor was completely installed in time for Easter!
Our new rear altar for the Blessed Sacrament is currently being assembled in the sanctuary. We expect this phase of the project to be finished prior to Pentecost.
More work remains to be done beyond even installing the high altar, but as was the case during Lent, Sunday Masses will not be impacted. Please check the schedule for any dates where we may need to offer Daily Mass in the Chapel when additional work resumes.
As work continues, please prayerfully consider how you can contribute to this project, which is the first major effort in our Holy Comforter 2020 plan to reinvigorate our parish and lay the foundation for the next generation of Catholics in Charlottesville.

Click the above logo to go to Holy Comforter's Online Giving form. Log into your account, create a new one if you wish to switch your regular parish support from checks/cash to online giving, or select "Quick Give" to provide a one-time gift and show of support. Then simply select the "Sanctuary Renovation Project" under the "Fund" drop-down and enter the amount of your gift.
Thank you for your support of this noble and worthwhile project! God bless you!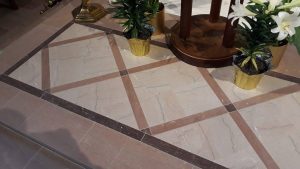 ---
Sung Vespers every Wednesday at 6:30 PM
A sung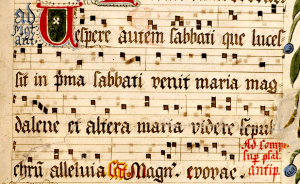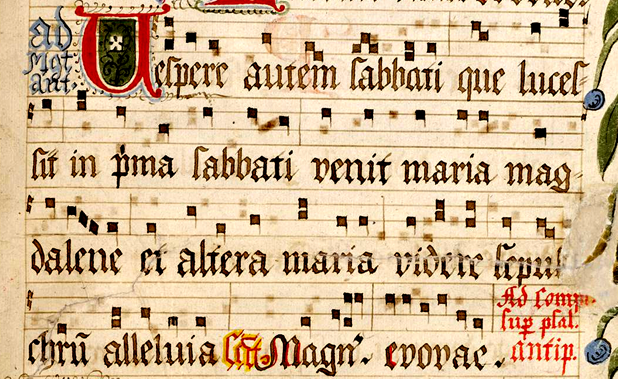 Vespers service will be celebrated regularly on Wednesdays at 6:30 PM in the church. The psalms are sung in Gregorian psalm tones (but in English!) which are easy to learn and are contemplative, allowing the participant to focus on the words while raising the voice to God in