Daily Mass time changes this week
Please note that there are several changes to the usual daily Mass schedule this week due to Father Joseph Mary's duties as dean, as well as saying Masses in other locations, including Charlottesville Catholic School.
Here is the Mass schedule for this week:
Monday, Jan. 14 at 12 pm
Tuesday, Jan. 15  at 7 am
Wednesday, Jan. 16 at 12 pm
Thursday, Jan. 17 at 7 am
Friday, Jan. 18 at 12 pm
---
Holy Innocents Mass and potluck luncheon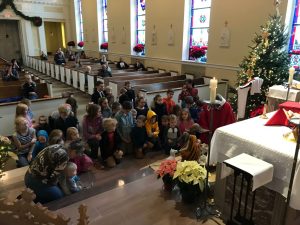 Thank you to the many parents and dozens of children who attended our Mass for the Feast of the Holy Innocents on Friday, December 28.  This was an incredible way to help revive a centuries-old tradition in the Church of honoring the martyrs who died in Christ's stead when he was but an infant.
We hope to make this special Mass, which included a blessing and rosary gifts for children, an annual occasion at Holy Comforter.
We have a number of photos of the Mass, blessing and luncheon available on our Facebook page. Take a look at them HERE.
---
All Souls Requiem Mass Video
For those unable to attend our Sung Requiem Mass in the Extraordinary Form on All Souls Day, a video is available on our Facebook page.
Mass begins at the 13:30 mark in the video. Click HERE to watch.
Our thanks to our Men's Schola, Ladies' Schola and guest choir members who helped  offer this beautiful liturgy.
We are always contemplating ways to stay in constant touch with our parishioners and the greater community. If you enjoy the video please leave feedback on our social media page or contact the office. We may offer livestreams of Sunday or other holyday Masses in the future for those who are ill, homebound or otherwise unable to attend Mass through no fault of their own.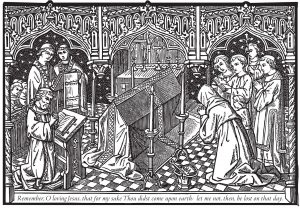 ---
Being Citizens Faithful to the Lord – Bishops' Pre-Election Statement
Election Day is November 6. To be the faithful citizens our Lord calls us to be, we must form our consciences through prayer, attentiveness to the Church's teachings, and an understanding of issues and of candidates' positions.
As we exercise our ministry of teaching, we wish to offer principles and observations that we believe will be of value to the faithful of our dioceses as we exercise the right to vote in elections this year.
Forming Consciences for Faithful Citizenship is a statement of the United States Conference of Catholic Bishops www.faithfulcitizenship.org which describes how we make good moral choices as we respond to our baptismal call to promote the common good in our nation's political life. We especially encourage you to read paragraphs 34-37 of this statement because they specifically address voting decisions.
There are many issues that require our attention: for example, the defense and protection of all life at every stage, and issues impacting the poor, immigrants, the family, religious liberty, and the environment. Love of God and neighbor means being attentive to all issues that affect the common good.
Some matters have "a special claim on our consciences and our actions" (Forming Consciences for Faithful Citizenship, Para. 37). We are referring here to policies promoting acts that are intrinsically evil because they are always incompatible with love of God and neighbor. "They must always be rejected and opposed and must never be supported or condoned. A prime example is the intentional taking of innocent human life, as in abortion and euthanasia." (Para. 22)
Our Virginia Catholic Conference's website also contains information on this year's U.S. Senate candidates' positions on a wide range of issues. This site is a resource for voter education as well as for advocacy throughout the year. We especially encourage you to join the Conference's email network via the site's "Join the Network" feature.
By voting on November 6 and advocating year round, let us be citizens who are truly faithful to the Lord.
Faithfully Yours in Christ,

+Most Rev. Michael Burbidge
+Most Rev. Barry Knestout
---
Fall Festival Picnic – Oct. 21 at 3:00 pm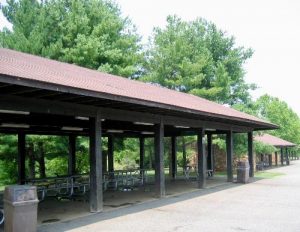 Please join in the fun at our Holy Comforter Family Fall Picnic on Sunday, October 21 from 3:00-6:00 at Pen Park! Head on over to Shelter #3.
Enjoy food, games, fun and an opportunity to meet other families in our parish community! We had such a good time this spring; we hope you will join us again. This is a potluck, but to be sure that the menu is varied, please indicate whether you can bring a main dish, side dish, or dessert. Drinks, paper products, etc. will be provided. If you are not sure of your plans and decide to come at the last minute, that is okay too!
https://www.signupgenius.com/go/4090e4faeac2ca5fc1-holy
Sunday is a day to worship the Lord and, yes, recreate with family, friends and your brothers and sisters in Christ. Take advantage of this wonderful opportunity to connect with old friends and make new ones.
RSVP and/or volunteer to help by signing the clipboard on the Christian Formation table in the Commons or via Sign-up Genius
---

Our Lady of the Rosary Procession – Oct. 14
As October is the month of the Rosary, Holy Comforter Catholic Church will have a procession in downtown Charlottesville in honor of the Blessed Virgin Mary on Sunday, Oct. 14, immediately following the 11AM Mass.
Join us as we carry a statue of Our Lady of Fatima through the streets, praying the Rosary and singing hymns to the Blessed Mother.
You need not be a parishioner to attend. All are welcome to join us in this public witness of our Catholic faith.
Following the procession we will have a High Mass in the Extraordinary Form at 1:30 PM. Please join us!
---
Bishop Knestout's Pastoral Letter 

Our bishop, Barry Knestout, has written a very important letter about his and the entire diocese's response to the ongoing sexual abuse and misconduct scandal.
Please read the whole thing HERE, but here are the important points:
– The Mass of Atonement on the Feast of the Exaltation of the Holy Cross was the FIRST such Mass that will be offered in reparation of the sins of the Church and for the healing of victims. More such Masses will be held regionally. Holy Comforter Catholic Church offered a Mass on 7:30 PM on Sept. 14 to this effect.
– The bishop is encouraging all clergy and laity to fast on Fridays for the remainder of the year. Father Joseph Mary has likewise asked us to do this as a parish. One could, and may be encouraged, to treat it like it was Good Friday or Ash Wednesday: One full meal and two smaller meals that, together, do not add up to another full meal.
– Names of priests who have been credibly accused of abuse will be made public.
– There will be a NEW audit conducted by an independent entity to ensure that no one who has been credibly accused remains in active ministry.
Please take the time to read it all, as we seek to deal with this very grave matter. Justice for victims and purification of the Church of evil is of the utmost importance at this time.
---
Corpus Christi procession through downtown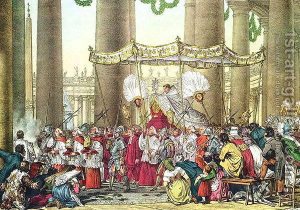 Holy Comforter marked the great Solemnity of the Body and Blood of our Lord Jesus Christ, also known as Corpus Christi, by processing through our parish neighborhood following the 11 am Mass on June 3.
Through this procession publicly professed our faith in the Real Presence and celebrate our unity in Christ. The Eucharist is the ultimate source and sign of unity. Thank you to all who braved the rain to join us in this solemn, joyful and moving display of faith as we take took to the streets of downtown Charlottesville.
Also, our thanks to CBS 19 News for covering the procession and interviewing our Master of Ceremonies for the Latin Mass, Daniel Smith. The procession was featured on the 10 pm newscast on Sunday. What a wonderful way to evangelize to the community!
Click HERE for a photo gallery of the procession and benediction.