St. John's Eve Mass & Bonfire
Join us for our first-ever
celebration
of the Vigil of St. John the Baptist! This tradition was particularly prominent in medieval Europe and continues to this day.
The Nativity of St. John the Baptist, which is near the summer solstice, is a mirror of the Nativity of Christ, which takes place during the shortest days and longest nights. From this night on "He must increase and I must decrease."

Confession will be from 6 pm to 6:30 pm, followed by Mass. After Mass we will have the traditional Blessing of the Bonfire and fellowship in the courtyard and the Commons beginning at about 7:30 pm.
If you can help with setup, cleanup or can bring anything to our celebration, please
SIGN UP HERE
.

We hope to see all of you there!
---
Corpus Christi Procession
Our thanks to all parishioners, visitors and strangers on the Mall who joined us for what ended up being our largest procession yet.
You are incredible witnesses to the Faith; your devotion to Our Lord was not missed by those who saw us brave the heat to walk in His Presence. So many people asked what was happening and were curious about the tradition. We even picked up a few people along the way who stayed for Mass in the afternoon.
Thank you for showing the world that Christ is truly present in the Blessed Sacrament!
---
COVID-related changes effective May 29-30
With the end of COVID public health mitigation measures across the state of Virginia, the following will be in effect at

Holy Comforter Catholic Church

as of Trinity Sunday weekend:
PUBLIC HEALTH PRACTICES
– Vaccinated parishioners do not need to wear a mask at Holy Comforter.
– Those who are not vaccinated should/are advised to wear a mask.
– The parish will not ask for proof of vaccination.
– Social distancing measures will no longer be implemented at our standard Masses.
– We will continue to offer Vulnerable Population Masses on Saturday evenings and on Mondays. Masks and distancing will be required at those Masses.
– No one will be asked to wear a mask at Holy Comforter, except during the Vulnerable Population Masses.
– All attempts to pressure someone to wear (or not wear!) a mask should be avoided. Please exercise Christian charity and patience during this transition period.
LITURGICAL PRACTICES
– The dispensation from attending Mass on Sundays and Holydays remains in effect until further notice from Bishop Knestout.
– The physical sign of peace among those of different households remains suspended.
– Distribution of the Precious Blood to the Faithful remains suspended.
– Holy Communion for the Faithful will continue in the pattern to which we are now accustomed.
– Use of holy water fonts and sprinkling will return to pre-pandemic normal.
SOCIAL
– Hospitality and socializing after Mass (coffee and cookies) will resume!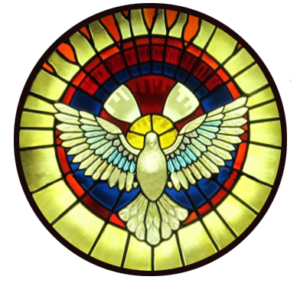 ---
Father Joseph Mary featured in the Catholic Virginian for 40th Anniversary!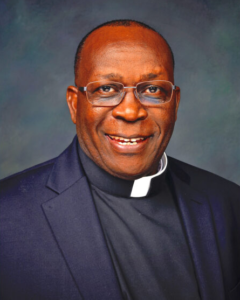 Our heartfelt thanks to all who participated in Father Joseph Mary's 40th Ordination Anniversary celebration earlier in May. Our pastor was featured in a beautiful write-up in the Catholic Virginian discussing his vocation and life as a priest.
"Looking at the life of Christ and being able to identify whatever challenges I receive with him, it gives me joy to see that I am able to serve the people, to find joy in following Christ."
Read the whole thing
HERE
---
Pray to end the pandemic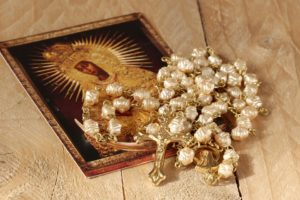 Father Joseph Mary urges parishioners to pray the Rosary to ask for the Blessed Mother's intercession and urge the Lord to act to "end this scourge."
The Faithful are reminded that when we knock, the door is opened. When we persist in prayer, our Loving Father acts in the world. Our God acts when we repent of our sins, do penance and pray fervently. We must be practical of course, but as people of faith our first recourse ought to be prayer. To ask the Lord for His help in times of distress.
Let us ask the Blessed Virgin Mary to watch over us and those who are afflicted with this and every illness. And during this "most acceptable time" of Lent, let us redouble our prayer and petition to God to ask Him to rescue us as He has delivered His Church so many times before!
---
Society of St. Vincent de Paul Holy Trinity Conference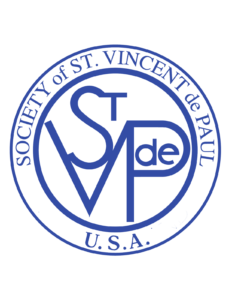 A new chapter of the Society of St. Vincent de Paul has begun right here in Charlottesville! This ministry, which began in 1851 here in the United States, is aimed at helping the poor both materially and spiritually. Volunteers go out into the community two by two to help people with rent, electric bills and other necessities… and also to pray with them and bring the Gospel to their homes.
The Holy Trinity Conference of the Society of St. Vincent de Paul is a joint effort between the three parishes here in Charlottesville: St. Thomas Aquinas, Incarnation and Holy Comforter.
Visit their website HERE.
Contact Chuck McCurdy at cwm@virginia.edu for more information.