Latin Mass scheduled expanded
We also happy to announce that, beginning in November, Holy Comforter will celebrate three Masses in the Extraordinary Form each month. In addition to our existing schedule of Masses on the 2nd and 4th Sundays of each month, we will now also celebrate a Latin Mass on 1st Sundays as well.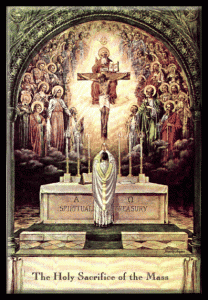 We are also are looking for more people to join our scholas. We have both a Men's Schola and a Ladies' Schola that practice separately, but perform together at our Latin Masses. Please contact our music director, Daniel Kirkland, at music@holycomforterparish.org if you are interested.
Information about Tridentine Rite Masses at Holy Comforter, including any schedule changes and a link to the propers for the Masses we celebrate, can be found on on our page dedicated to the Extraordinary Form of the Roman Rite.
---
Our Lady of Fatima procession draws crowd, press coverage
Holy Comforter celebrated 100th anniversary of the "day the sun danced" at Fatima on the morning of Saturday, Oct. 7 with a special event, including morning Mass and a procession through downtown Charlottesville.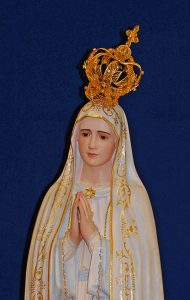 Many thanks to the Knights of Columbus for carrying the statue of Our Lady of Fatima that sits in the chapel. We also would like to extend thanks to staff and volunteers who helped to organize this incredible event.
In addition to being featured on the Richmond Diocese's various social media outlets, the procession was also captured by The Daily Progress and featured in the Sunday, Oct. 8, edition of the paper. To see the gallery of pictures taken by the photojournalist who covered our celebration of Our Lady of Fatima, please click here.
Additional images and information about the procession can be found at our Facebook page
More than 100 people attended Mass and marched with us and we want to thank each and every person who was committed enough to make this public demonstration of faith. Given the strong turnout and our unique location as Charlottesville's downtown parish, we are contemplating future processions. If you have any suggestions, please contact the office. God bless!
---
Children's Christian Formation classes resumed Sept. 10. Register now!

School is back in session and that means children's Christian Formation classes will begin soon! Holy Comforter offers religious education classes from Pre-K to High School, as well as other fun family events throughout the year:
Highlights include the All Saints pageant, the Feast of St. Nicholas celebration, children's Christmas Mass, children's Stations of the Cross during Lent, May crowning and more!
Registration forms are available on the Christian Formation table and on the Christian Formation page on our website here.
We need catechists this year, particularly for Middle School and our High School Ministry. Please consider whether the Holy Spirit is calling you to help form our young people in the Faith.
Contact Sue, our coordinator for religious education, for more information at cre@holycomforterparish.org or call 434.295.6559.
---
Requiem aeternam dona eis, Domine. Et lux perpetua luceat eis.
The Diocese of Richmond and the Holy Comforter community is in mourning following the death of our bishop, Francis X. DiLorenzo. Bishop DiLorenzo passed into eternal life late in the evening on Aug. 17.
Please pray for the repose of his soul and for spiritual and emotional strength for his friends and family.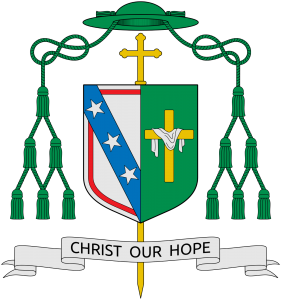 ---
Welcome to Holy Comforter's new website!
After months of hard work, we are proud to be launching our new website. The new site makes it much easier to find when Masses are being held, how to contact the parish, prominently features our calendar and is mobile-friendly. We also have much, much more content. Certain new features will be updated very frequently, including daily Mass readings, saints of the week and a quick summary of events at Holy Comforter each week, which are all visible in the widgets above. You will also now be able to read Father Joseph Mary's Sunday homilies!
Please do take some time to check out all of our new content, including altar server information, brand-new content related to our Music, Christian Formation and Pro-Life ministries. This is still a work in progress and we have much more to bring you. If you have any suggestions, please contact the office. Thanks and God bless!