Ash Wednesday schedule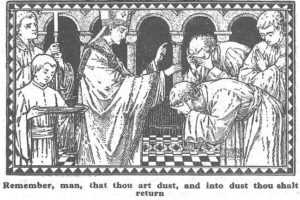 Lent is on the horizon and now is time to prepare for the most penitential season of the year.
Our schedule for Ash Wednesday, which is on March 6, is as follows:
7 am – Blessing and Distribution of Ashes followed by a Low Mass in the Extraordinary Form
12 pm – Mass with Distribution of Ashes
6 pm – Mass with Distribution of Ashes
Memento, homo, quia pulvis es, et in pulverem reverteris / Remember man that thou are dust, and to dust thou shalt return.
---
Society of St. Vincent de Paul Chapter Launching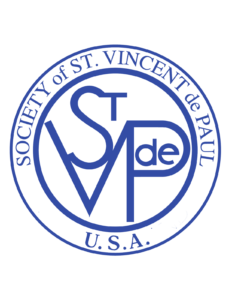 A new chapter of the Society of St. Vincent de Paul is beginning right here in Charlottesville! This ministry, which began in 1851 here in the United States, is aimed at helping the poor both materially and spiritually. Volunteers go out into the community two by two to help people with rent, electric bills and other necessities… and also to pray with them and bring the Gospel to their homes.
The Holy Trinity Conference of the Society of St. Vincent de Paul is a joint effort between the three parishes here in Charlottesville: St. Thomas Aquinas, Incarnation and Holy Comforter. There will be three information sessions for prospective volunteers in the coming weeks.
The information session at Holy Comforter will be on Monday, March 11, from 6:30 to 7:30 PM.
See the bulletin for other times and locations.
---
Holy Innocents Mass and potluck luncheon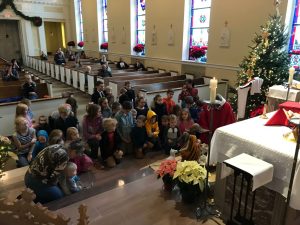 Thank you to the many parents and dozens of children who attended our Mass for the Feast of the Holy Innocents on Friday, December 28.  This was an incredible way to help revive a centuries-old tradition in the Church of honoring the martyrs who died in Christ's stead when he was but an infant.
We hope to make this special Mass, which included a blessing and rosary gifts for children, an annual occasion at Holy Comforter.
We have a number of photos of the Mass, blessing and luncheon available on our Facebook page. Take a look at them HERE.
---
All Souls Requiem Mass Video
For those unable to attend our Sung Requiem Mass in the Extraordinary Form on All Souls Day, a video is available on our Facebook page.
Mass begins at the 13:30 mark in the video. Click HERE to watch.
Our thanks to our Men's Schola, Ladies' Schola and guest choir members who helped  offer this beautiful liturgy.
We are always contemplating ways to stay in constant touch with our parishioners and the greater community. If you enjoy the video please leave feedback on our social media page or contact the office. We may offer livestreams of Sunday or other holyday Masses in the future for those who are ill, homebound or otherwise unable to attend Mass through no fault of their own.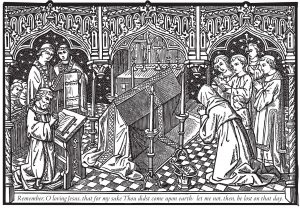 ---
Corpus Christi procession through downtown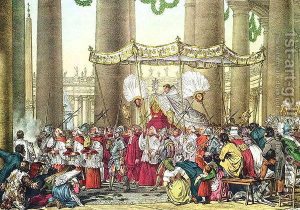 Holy Comforter marked the great Solemnity of the Body and Blood of our Lord Jesus Christ, also known as Corpus Christi, by processing through our parish neighborhood following the 11 am Mass on June 3, 2018.
Through this procession publicly professed our faith in the Real Presence and celebrate our unity in Christ. The Eucharist is the ultimate source and sign of unity. Thank you to all who braved the rain to join us in this solemn, joyful and moving display of faith as we take took to the streets of downtown Charlottesville.
Also, our thanks to CBS 19 News for covering the procession and interviewing our Master of Ceremonies for the Latin Mass, Daniel Smith. The procession was featured on the 10 pm newscast on Sunday. What a wonderful way to evangelize to the community!
Click HERE for a photo gallery of the procession and benediction.