Vacation Bible School coming in August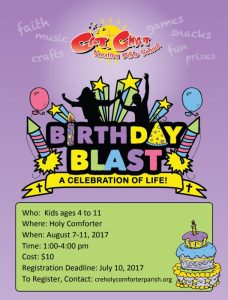 Christian Formation classes may be over for the school year, but that does not mean that the education of our children in the Faith is on hiatus! Holy Comforter will have Vacation Bible School for students ranging in age from 4 to 11 beginning in early August.
Our thanks to our religious education director, Sue Dougherty, for taking on this task, but we will need your help as well. If your schedule is free from August 7 – 11, please prayerfully consider volunteering for this ministry. This is a great opportunity for our teens to firmly establish themselves as leaders in our Catholic community and to get a head start on volunteer hours too!
The cost is just $10 for the week and each day of VBS will run from 1 PM to 4 PM.
Please visit our Children's Formation page to register a student… or to register as a volunteer.
Contact Sue here with any additional questions. Thank you!
---
Blessings to all our First Communicants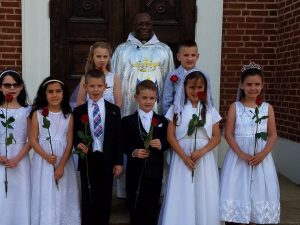 Congratulations to all of our First Communicants who received the Body and Blood of Our Lord in May, and thank you to all the parishioners, family members and godparents who came to show your support.
Official pictures from the Mass and reception are available at our Facebook page here!
---
Welcome to Holy Comforter's new website!
After months of hard work, we are proud to be launching our new website. The new site makes it much easier to find when Masses are being held, how to contact the parish, prominently features our calendar and is mobile-friendly. We also have much, much more content. Certain new features will be updated very frequently, including daily Mass readings, saints of the week and a quick summary of events at Holy Comforter each week, which are all visible in the widgets above. You will also now be able to read Father Joseph Mary's Sunday homilies!
Please do take some time to check out all of our new content, including altar server information, brand-new content related to our Music, Christian Formation and Pro-Life ministries. This is still a work in progress and we have much more to bring you. If you have any suggestions, please contact the office. Thanks and God bless!