(You do not need to have a Facebook account to watch our livestreams or recorded videos!)
Divine Mercy Sunday
Sunday, April 11 is the Octave of Easter and Divine Mercy Sunday! A reminder to the Faithful that an opportunity for a plenary indulgence is available on this under the usual conditions of reception of communion and sacramental confession. All that is necessary is to "take part in the prayers and devotions held in honor of Divine Mercy, or, in the presence of the Blessed Sacrament exposed or reserved in the tabernacle, recite the Our Father and the Creed, adding a devout prayer to the merciful Lord Jesus, such as "Merciful Jesus, I trust in you!"
Take advantage of this opportunity to remit all of your temporal punishment! 
Holy Comforter will have a Holy Hour following the Latin Mass on Sunday, running from 3:30 to 4:30 pm. Join us!
---
Procession in honor of St. Joseph on March 21
Thank you to all who joined us for our first-ever procession in honor of St. Joseph on Sunday, March 21.
You can see a full photo album of the procession on our Facebook page HERE
Also, the St. Joseph altar set up by the Regina Caeli Homeschool Co-operative will remain on display in the Commons through the end of this week. If you have not seen it yet, take a moment to come check it out!
---
Stations of the Cross every Friday in Lent!
Join us for Stations of the Cross in the church every Friday at 6 pm during this solemn season.
Follow the way that our Lord walked and remember His Passion as we prepare our hearts for Easter.
---
Marian Procession on Jan. 24
A sincere thank you to all those who joined us for our Marian procession on Sunday, Jan. 24. It was wonderful to see so many of our parishioners witness to the Faith in our downtown community.
We do intend to continue to have regular processions, pandemic or not! Stay tuned for details about our next one, which is tentatively scheduled for March.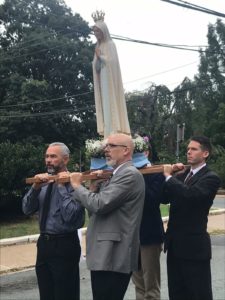 ---
Publicity Release Form for Directory
Fellow Holy Comforter Parishioners,
Our parish directory is nearing publication. We need  you to sign a new release form, required by the Diocese, in order to be included in the directory. Please take a moment and fill out the forms below and turn them into the office either in person, by mail or through email. Send them to reception@holycomforter.org
Thank you!
Publicity Release Form PDF
Publicity Release Form Doc
---
"Phase 3" Schedule
We are now in "Phase 3" of re-opening both across the Commonwealth and in the Diocese of Richmond. 
"Vulnerable population" Masses are on Monday at 12 pm and the 5 pm Saturday Vigil Mass.
All attendees ages 10 and up are required to wear a facecovering at Mass. Also, children between the ages of six and nine who will receive Holy Communion must also wear a facecovering when they go up.
Offertory is collected in the usual way.
Thursday evening Holy Hours have resumed.
Small groups are permitted to meet in person at the parish with Father Joseph Mary's permission.
---
First Holy Communions!
Please include the following children in your prayers as they received His Real Presence for the first time in late May:
Frem Afram
Michael Afram
Emmanuella Ablewa Agbati
Mason Howell Baxter
Miriam Jablonski
Mathew William Phillips
Kynzlee Gabrielle Reyes
Zachary Robert Storm
Brooklyn Taft Weaver
Theresa Ann Van Dyke
Thank you to all the parents who, on top being thrust into the world of homeschooling while working or caring for little ones, did such an excellent job catechizing their children and preparing them for their First Communions. You are all our my prayers and we are blessed to have you in our parish! Thank you, also, to Father Joseph Mary for organizing and leading Zoom meetings with the kids and to our DRE, Melinda Wells, for all of her support.
---
Thank you for your financial support!
We are so moved by the amount of engagement on Facebook in during this pandemic and all the parishioners who continue to support the parish through the offertory both in person and online. In these days it is more important than ever to reach out to one another, lift one another up and for those who can, to financially assist your brothers and sisters who are now in hard times both directly and through charities (including your parish!) who are feeding and caring for the poor.
And of course, if there is anything we at the parish can do for you, please do not hesitate to contact the office or message the Facebook page. God bless and have a wonderful Holy Week. Check Facebook and Flocknote often as we move through this new normal.
---
Pray for the end of the pandemic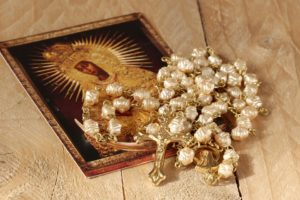 Father Joseph Mary urges parishioners to pray the Rosary to ask for the Blessed Mother's intercession and urge the Lord to act to "end this scourge."
The Faithful are reminded that when we knock, the door is opened. When we persist in prayer, our Loving Father acts in the world. Our God acts when we repent of our sins, do penance and pray fervently. We must be practical of course, but as people of faith our first recourse ought to be prayer. To ask the Lord for His help in times of distress.
Let us ask the Blessed Virgin Mary to watch over us and those who are afflicted with this and every illness. And during this "most acceptable time" of Lent, let us redouble our prayer and petition to God to ask Him to rescue us as He has delivered His Church so many times before!
---
Society of St. Vincent de Paul Holy Trinity Conference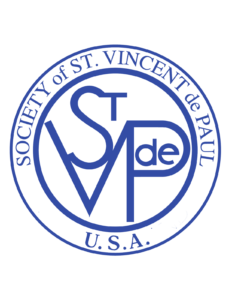 A new chapter of the Society of St. Vincent de Paul has begun right here in Charlottesville! This ministry, which began in 1851 here in the United States, is aimed at helping the poor both materially and spiritually. Volunteers go out into the community two by two to help people with rent, electric bills and other necessities… and also to pray with them and bring the Gospel to their homes.
The Holy Trinity Conference of the Society of St. Vincent de Paul is a joint effort between the three parishes here in Charlottesville: St. Thomas Aquinas, Incarnation and Holy Comforter.
Visit their website HERE.
Contact Chuck McCurdy at cwm@virginia.edu for more information.