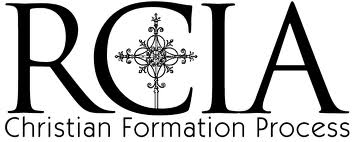 The Rite of Christian Initiation of Adults (RCIA) is a process for people interested in inquiring about the Catholic faith and preparing for the celebration of the Sacraments of Initiation. Are you interested in finding out more about Catholicism? Do you know someone who may want to become a Catholic? Are you a baptized, but not confirmed, Catholic who wants to complete the process of initiation? Then RCIA is for you!
What is the RCIA Process?
RCIA is a process structured around movements of inquiry, celebration, class sessions, discernment, prayer, commitment and finally the celebration of the Sacraments of Initiation: Baptism, Confirmation and the Eucharist.
Becoming a Catholic is a journey. A person enters the life of the Church through periods of study, faith sharing, scripture reflection, and rites. The usual culmination of this process is held during the Easter Vigil.
Who Should Consider the RCIA Process?
Adults and older children who…
Have never been baptized;
Have been baptized in another Christian denomination and wish to convert to Catholicism
Were baptized Catholic as infants, but who have not had religious formation in the Catholic faith;
Were baptized Catholic as infants, but who have not celebrated the Sacraments of Confirmation and Communion.
Have been fully initiated, but would like to learn more about their Catholic faith. You too are welcome to attend RCIA class sessions.
RCIA at Holy Comforter
Holy Comforter offers a process for those who wish to inquire about the Catholic faith, and if so choose, join the Catholic Church. A person may begin the journey by contacting our pastor, Father Joseph-Mary at (434) 295-7185, or our Coordinator of Religious Education, Sue Dougherty at (434) 295-6559, or our RCIA Coordinator, Diane Auger Smith, at (434) 996-0502, or via email at dianeaugersmith@gmail.com.
Regular RCIA class sessions will be held Sundays from 9:40 – 10:50 am beginning Aug.27, 2017, and running through Pentecost, May 20, 2018. An orientation will be held August 20, 2017 from 9:40 – 10:50 am in the Bernard Moore conference room on the lower level.
Please pray for our catechumens and candidates who will be preparing to enter the Church this Easter!