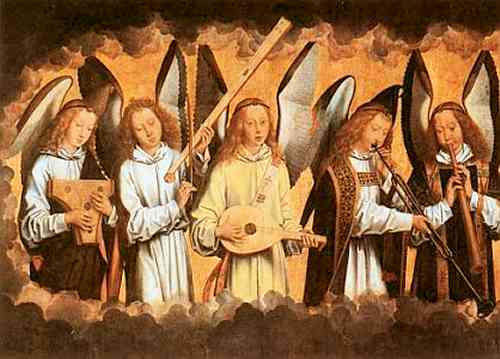 The music ministry at Holy Comforter strives to live up to the teachings of the Second Vatican Council, which called for a renewal in music that respects the Church's "inestimable treasure" that has developed over her two-thousand year history. That includes everything from Gregorian Chant to 20th century hymns that reflect the dignity and solemnity of the Liturgy.
The choir, which sings at the 11am Mass, rehearses on Wednesdays from 7-8:30 pm. Our repertoire includes psalms, hymns, and anthems ranging in style from Medieval to contemporary It is preferable, though not necessary, to have music reading abilities. Just be ready to offer a "sacrifice of praise" through hard work and consistency. Feel free to visit a rehearsal to see if God might be calling you to serve in this way or you can contact the Minister of Music, Daniel Kirkland, at music@holycomforterparish.org
Cantors sing at the 5pm and 8:30am Masses and rehearse with the music director as needed according to their schedules. Duties include leading the congregation at the Responsorial Psalm, the Gospel acclamation, and the Propers of the Mass, in addition to singing the hymns. Please contact the music director regarding interest in this aspect of music ministry.
Those who have a special interest in Gregorian Chant are invited to consider joining the Schola Cantorum, which sings for High Masses in the Extraordinary Form every second and fourth Sunday at 1:30pm. The schola practices on Mondays at 6pm (women) and 7pm (men).  Please contact the music director for more details.
Information about the Austin Organ:
Two manuals. 10 ranks. Manual compass is 61 notes. Pedal compass is 32 notes.
ORGAN BY AUSTIN OF HARTFORD, CONNECTICUT
Opus 1820 was built in 1932.
GREAT
Open Diapason 8′
Stopped Flute 8′
Echo Salicional 8′
Octave 4′
Harmonic Flute 4′
Trumpet 8′ *
SWELL
Violin Diapason 8′
Stopped Flute 8′ (from Great)
Echo Salicional 8′ (from Great)
Vox Angelica 8′
Harmonic Flute 4′ (from Great)
Oboe Horn 8′
Vox Humana 8′ **
PEDAL
Open Diapason 16′
Bourdon 16′
Stopped Flute 8′ (from Great)
Tremolo; Unison, sub-, and super-couplers
Manual stops have an extra upper octave, except for the Trumpet.
* Added in 2005
** Disappeared at some point in the past; may be replaced in the future
Wilhelmy of Staunton overhauled the instrument in 2005. It is currently in the care of Christopher Bono of Fishersville.