"You yourselves are being built into a spiritual house, to be a holy priesthood, to offer spiritual sacrifices acceptable to God through Jesus Christ.." (1 Peter 2:5)
The setting in which we gather, worship our Lord, minister to the community and engage with one another is extremely important. A significant part of "Holy Comforter 2020" will be geared towards improving our physical building and making additions to solidify our Catholic identity.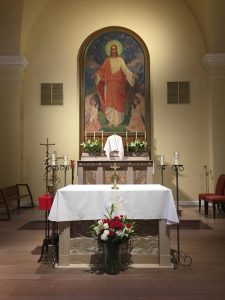 Completed project!
– Undertake a sanctuary renovation project in 2018. For more information on this important project, please read this introduction. The packet we submitted to the Diocese, which includes the project scope and budget projections is available here.
Other potential projects
– Update the office and common areas to make it a healthier and brighter place for staff and visitors. Improvements may include replacing the carpeting in the offices, adding a window covering at the receptionist desk, adding lighting, repairing the staircases, deep-cleaning the entire annex, and creating a genuine sacristy.
– Add statues and religious art throughout the church and make improvements to the courtyard. This could include adding benches and statues in the courtyard itself to make it a prayerful and reflective area, and to make it a space that invites others to come to our church. The lower level likewise could use additional religious artwork to reinforce our Catholic identity, to quietly preach the Gospel at all times and provide a more peaceful and prayerful atmosphere for visitors to the Soup Kitchen and Food Pantry.
– Improve the Third Street side of church. Clean up trash and debris, place a crucifix outside the entrance and provide visitors to the Soup Kitchen and Food Pantry with religious pamphlets/keepsakes.
– Post Mass and other prayer service/gathering times on signage on the exterior of the church. This could prompt more people passing by our church to change their plans and stop in for Mass, Rosary, adoration or confession. A simple public-facing sign could seriously enhance the spiritual lives of our community!
– Add sign to post hymn numbers in the sanctuary. As our musical style develops and diversifies, we may also add to, or replace, our existing hymnals. The goal here is to make it as easy as possible for the congregation to actively participate in this important aspect of worship,
– "Spruce up" the entire church with painting, cleaning and following through on delayed maintenance. This would include repainting and refinishing the pews, repairing or replacing the kneelers, making physical improvements to the chapel, repairing and refinishing the exterior wooden doors.