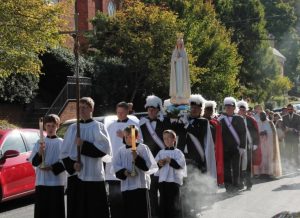 "Every one who believes that Jesus is the Christ is a child of God, and every one who loves the parent loves the child. By this we know that we love the children of God, when we love God and obey his commandments." (1 John 5:1-2)
The goal for each of our lives is to become saints. In order to live out what the Vatican II document Lumen Gentium described as the "universal call to holiness," we must constantly seek to deepen our relationship with the Lord. One major pillar of the "Holy Comforter 2020" initiative is to find ways to help every member of the congregation connect more fully with Christ and better understand the teachings of His Church.
Existing initiatives in the works
– Build a Children's Choir and provide opportunities for our young people to use their God-given talents to praise the Lord during Mass. This could include encouraging children to learn hymns and perform them on musical instruments during Mass.
– Explain Church teachings on end-of-life issues, offer training for parishioners and support for members of the congregation facing difficult situations.
– Organize additional processions like the October 2017 Our Lady of Fatima event. We had our first Corpus Christi procession in June 2018 and a procession for Our Lady of the Rosary in October 2018. We aim to make processions a major feature of our public witness to the Faith.
– Increase the parish's devotion to the Rosary and other devotions. Building on our praying of the Rosary in October 2017 before every Mass, we may opt to create a "Rosary Sunday" whereby the devotion is prayed before every Mass on one designated Sunday each month. Every October intend to pray the Rosary before every Mass given that month's special importance.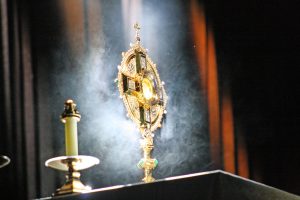 Other potential ideas
– Develop a program to explain and promote the concept of the domestic Church. Home life is where the Faith must be taught and lived out every day. This program would seek to provide parents and children with tools to help align their families lives with that of the Church.
– Organize a "Parish Mission Week" that would include guest speakers and family activities to enrich the faith of all our parishioners.
– Organize group pilgrimages to National Shrine, Benedictine monastery or other holy sites.
– Find ways to help teens stay connected with the Church and make it an integral part of their lives as they near adulthood. This may include developing mentoring relationships, bolstering our altar serving program, encouraging young people to become lectors or ministers to the homebound and, in general, being leaders within the parish community.
– Improve communication between the parish and those who are homebound. We may also seek ways to publicly recognize older parishioners on significant milestones such as birthdays and wedding anniversaries.